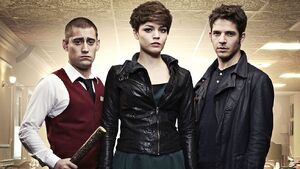 Being Human is a British supernatural drama television series which is broadcast on BBC Three. It was created and written by Toby Whithouse and is currently broadcast on BBC Three.
The show blends elements of flatshare comedy and horror drama. It originally starred Aidan Turner as Mitchell (a vampire), Russell Tovey as George (a werewolf) and Lenora Crichlow as Annie (a ghost)—all of whom are sharing accommodation and attempting as best as they can to live a "normal" life and blend in with the ordinary humans around them.
Plot Series Aired: May 2009 - August 2012 (UK)
Edit
The central premise of Being Human is that various types of supernatural beings exist alongside human beings, with varying degrees of menace; that three of these supernatural beings are opting to live amongst human beings rather than apart from them; and that these three characters are attempting (as much as is possible) to live ordinary human lives despite the pressures and dangers of their situations.
They are constantly threatened with exposure or persecution, with pressure from other supernatural creatures, and with problems caused by their attempts to deal with their own natures.