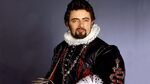 Blackadder s the name that encompassed four series of a BBC One historical sitcom, along with several one-off instalments. All television program episodes starred Rowan Atkinson as anti-hero Edmund Blackadder and Tony Robinson as Blackadder's dogsbody, Baldrick.
Each series was set in a different historical period with the two protagonists accompanied by different characters, though several reappear in one series or another, for example Melchett and Lord Flashheart.
Although each series is set in a different era, all follow the fortunes (or rather, misfortunes) of Edmund Blackadder (played by Atkinson), who in each is a member of a British family dynasty present at many significant periods and places in British history. It is implied in each series that the Blackadder character is a descendant of the previous one, although it is never mentioned how any of the Blackadders manage to father children.
Although the character is quite unintelligent in the first series, he is increasingly clever and perceptive in subsequent generations (while decreasing in social status). Each Blackadder though is a cynical, cowardly opportunist concerned with maintaining and increasing his own status and fortunes, regardless of his surroundings.
The lives of each of the Blackadders are also entwined with their servants, all from the Baldrick family line (played by Tony Robinson). Each generation acts as the dogsbody to his respective Blackadder. They decrease in intelligence (and in personal hygiene standards) just as their masters' intellect increases. Each Blackadder and Baldrick are also saddled with the company of a dim-witted aristocrat whose presence Blackadder must somehow tolerate. This role was taken in the first two series by Lord Percy Percy (Tim McInnerny), in the third series by Prince George, Prince Regent, and in the fourth by Lieutenant George, the latter two played by Hugh Laurie.
Each series was set in a different period of British history, beginning in 1485 and ending in 1917 comprising six half-hour episodes. The first series, made in 1983, was called The Black Adder (set in the fictional reign of 'Richard IV'). This was followed by a second series, Blackadder II (1986) set during the reign of Elizabeth I), a third series Blackadder the Third (1987) set during the late 18th and early 19th centuries in the reign of George III, and finally Blackadder Goes Forth (1989) in 1917, set in the trenches of the Great War.