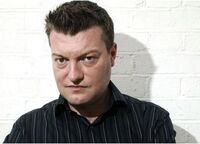 Charlton "Charlie" Brooker (born 3 March 1971) is a British journalist, comic writer and broadcaster. His style of humour is savage and profane, with surreal elements and a consistent satirical pessimism.
He presents TV shows Screenwipe, Gameswipe and Newswipe, wrote a review column for The Guardian newspaper, and is one of four creative directors of comedy production company Zeppotron.
His five-part horror drama Dead Set for E4 earned him a nomination for a BAFTA. Brooker won Columnist of the Year at the 2009 British Press Awards for his column, and the Best Newcomer at the British Comedy Awards 2009. He is co-presenter of 10 O'Clock Live on Channel 4 and presents the documentary series How TV Ruined Your Life on BBC Two.
External Links
Edit