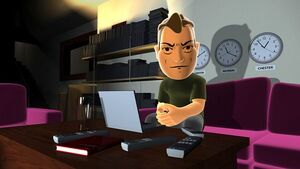 Charlie Brooker's Gameswipe was a special one-off British, video game culture show by Charlie Brooker, aired in September 2009 during the BBC's Technology season.
Following on from Brooker's Screenwipe and Newswipe, Gameswipe featured reviews of various video games and consoles as well as an insight into the video game industry.
The one-off special was very similar to its predecessors, in that Brooker, along with a camera and various games consoles, reviewed and previewed video games in the same style as Screenwipe. Brooker claimed that it would attempt to prove that video games can be just as engaging as television and just as dumb.
He said to "Expect pixels, joypads, some of the world's weirdest games, celebrity cameos and the occasional sound effect.