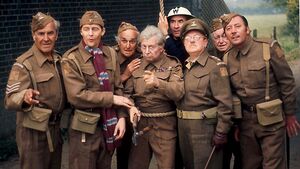 Dad's Army is a British sitcom about the Home Guard during the Second World War. It was written by Jimmy Perry and David Croft and broadcast on BBC television between 1968 and 1977.
The series ran for 9 series and 80 episodes in total, plus a radio series, a feature film and a stage show. The series regularly gained audiences of 18 million viewers and is still repeated world wide. The series is still regally repeated on BBC Two.
The show was set in the fictional seaside town of Walmington-on-Sea, on the south coast of England (the exterior scenes were mostly filmed in and around Thetford, Norfolk). Thus, the Home Guard were on the front line in the eventuality of an invasion by the enemy forces across the English Channel, which formed a backdrop to the series.
The first series had a loose narrative thread, with Captain Mainwaring's platoon being formed and equipped—initially with wooden guns and LDV armbands, and later on full army uniforms; the platoon were part of the The Queen's Own Royal West Kent Regiment.