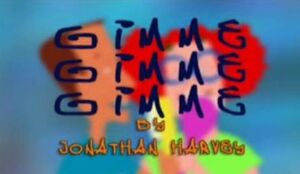 Gimme Gimme Gimme is a BBC television comedy by Tiger Aspect Productions that ran for three series between 1999 and 2001. It was written by Jonathan Harvey, who developed the series with Kathy Burke.
The theme song was a cover of ABBA's "Gimme! Gimme! Gimme! (A Man After Midnight)". The first series was shown on BBC Two, being deemed successful enough for the second and third series to be shown on BBC One. A fourth series was to be produced for 2002, but the BBC decided to drop the programme and cancelled production.
Gimme Gimme Gimme stars comedienne and director Kathy Burke as loud-mouthed Londoner Linda La Hughes and James Dreyfus as her gay flatmate, Tom. A modern twist on the traditional 'odd couple' format, much of Gimme Gimme Gimme's humour springs from its lubricious innuendo subplot, which springs from the mouths of both Tom and Linda.