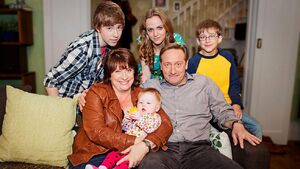 Life of Riley is a British comedy television series, shown on BBC One & BBC HD. The show stars Caroline Quentin and Neil Dudgeon, who are recently married, and is set around their dysfunctional family.
Jim (Dudgeon) and Maddy Riley are newly-weds, Jim has two children from a previous relationship, teenagers Katy and Danny, whilst Maddy also has a child of her own - primary schooler Ted from her previous marriage - and baby Rosie with Jim.
Jim and Maddy also try to compete with their next-door neighbours, the Weavers; this basic plot is in most episodes and usually makes the Rileys look like The Addams Family. As well as the Riley family, the Weavers also play principal characters in the sitcom.
Lucinda Dryzek- Katy Riley
Caroline Quentin - Maddy Riley
Neil Dudgeon - Jim Riley
Heather Craney - Alison Weaver
Taylor Fawcett - Danny Riley
Patrick Nolan - Ted Jackson
Ava and Neve Lamb - Rosie Riley
Richard Linnell - Anthony Weaver - Series 3
John Bell - Anthony Weaver
Jordan Clarke - Adam Weaver
Marcia Warren - Maddy's Mum
Richard Lumsden - Roger Weaver
Jessica Gunning - Babysitter
External Links
Edit