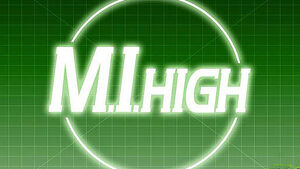 M.I.High (also known as MI High) is a children's action adventure series which was produced by the independent production company Kudos, who also produced the hit BBC spy drama Spooks. MI High was shown on CBBC.
The series following the adventures of three secondary school pupils, Blane, Daisy and Rose, who work as undercover spies. The spies are led by M.I.9 agent Lenny Bicknall (Danny John-Jules), working undercover as the school caretaker.
Blane and Daisy are later replaced by Carrie and Oscar, with Lenny replaced by Frank London. All other spies' covers have been rumbled and the only spies left undercover are those still being trained, including those still in school.