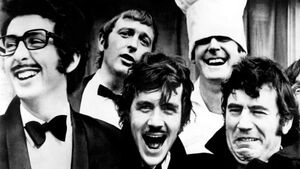 Monty Python's Flying Circus (known during the final series as just Monty Python) is an innovative, highly influential BBC TV sketch comedy programme from the Monty Python comedy team, and the group's initial claim to fame.
The show has been noted for its surreality, risqué or innuendo-laden humour, sight gags and sketches without punchlines. It also features the iconic animations of Terry Gilliam, which are often sequenced or merged with live action.
The title Monty Python's Flying Circus was partly the result of the group's reputation at the BBC. Michael Mills, BBC's Head of Comedy, wanted their name to include the word circus because the BBC referred to the six members wandering around the building as a "circus" (in particular "Baron Von Took's Flying Circus" after Barry Took, who had brought them to the BBC).
The group added flying to make it sound less like an actual circus and more like something from World War I. Monty Python was added because they claimed it sounded like a really bad theatrical agent, the sort of person who would have brought them together, with Eric Idle suggesting Monty and John Cleese suggesting Python.
The BBC had rejected some other names put forward by the group including "Whither Canada?", "Ow! It's Colin Plint", "A Horse, a Spoon and a Bucket", "The Toad Elevating Moment" and "Owl Stretching Time".