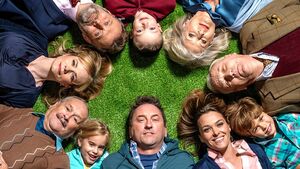 Not Going Out is a British television sitcom that has aired on BBC One since 2006. Starring Lee Mack, Tim Vine, Sally Bretton and Katy Wix.
Series 1
Edit
Lee, unambitious and unmotivated, goes from one job to another, living off the good graces of his Californian landlady Kate, with whom he shares a flat in London. It is not long before they find that their friendship is changing into something more.
The situation is somewhat complicated by the fact that Lee's best friend Timothy Gladstone Adams, an accountant from Henley, is Kate's ex-boyfriend (they broke up when he left her for a fling with 23-year-old Emma) and he wants to repair their relationship. Lee is torn between pursuing his growing feelings for Kate and remaining loyal to his increasingly paranoid friend.