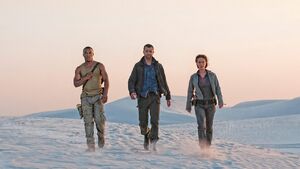 Outcasts is an eight-part 2011 British television science-fiction drama serial, starring Liam Cunningham, Hermione Norris, Amy Manson, Daniel Mays, Jamie Bamber, Eric Mabius and Ashley Walters. It originally aired on BBC One, and BBC HD.
Outcasts is set in the year 2060[3] on the fictional Carpathia, a so-called "Goldilocks planet" five years' travel from Earth. Carpathia has been colonised by a succession of spaceships fleeing destruction and nuclear conflict back on Earth.
Most of the planet's population is living within the limits of the pioneer town Forthaven, that was first settled ten years before the time of the beginning of the series. The Carpathians live in ignorance of Earth's fate, receiving news only through the few evacuee transporter ships that successfully pass through the difficult atmospheric entry to Carpathia. Carpathia was so-named by the colonists in honour of the RMS Carpathia, a ship that came to rescue survivors in the aftermath of the historic RMS Titanic disaster.