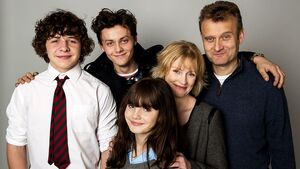 Outnumbered is a British Comedy Award winning and BAFTA nominated British sitcom that has aired on BBC One since 2007.Produced by Hat Trick Productions, Outnumbered is written, directed and produced by Andy Hamilton and Guy Jenkin, although parts of the show are semi-improvised.
It stars Hugh Dennis and Claire Skinner as a father and mother who are outnumbered by their three children played by Tyger Drew-Honey, Daniel Roche and Ramona Marquez.
Three children, all are clever in their own way. One is a nervous type, another a compulsive liar, and the little girl devious and contriving. This is the story of how their parents cope with each (or not) with hilarious results.
To make things worse Dad is a teacher, Mum despises her sister and the children's Granddad is going senile.