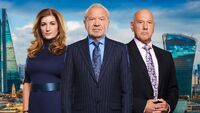 The Apprentice is a British reality television series in which a group of aspiring young businessmen and women compete for the chance to win a £100,000-a-year job as an apprentice to the British business magnate Lord Sugar (previously known as "Sir Alan Sugar") in series one through six. It is shown by the BBC on BBC One.
Open auditions and interviews are held across the country before a series begins, attracting thousands of applicants. About 75 candidates are called back for a second round in London, for assessment in groups, asked to do various exercises to test their business skills and how they work in a team.
After this, between 20 to 30 candidates are assessed by a psychologist, references are taken and other checks made. It is from this group that the final line-up is chosen.The first and second series featured 14 candidates, increased to 16 in the third and fourth. The fifth series was also meant to have 16 candidates, but went ahead with only 15 after a last-minute withdrawal. The BBC Comedy website published a spoof video at the beginning of Series 6 revealing more about the candidate selection process.