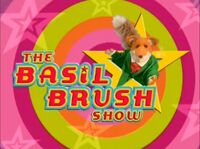 The Basil Brush Show was a 2002 remake of the 1960s comedy show starring Basil Brush, a glove puppet fox. It ran for six series between 2002 and 2007.
Stephen, a new comic foil for Basil played by Christopher Pizzey, was introduced for the first four seasons. Georgina Leonidas, Michael Hayes, Laura Evans, and Ajay Chhabra also appeared on the show. No cast member is directly credited as playing Basil, although Michael Windsor is credited as Basil's fitness instructor or his personal assistant. After the fourth season, Stephen was replaced by Liam, played by Michael Byers
Basil and Stephen live in an apartment owned by Stephen. Stephen is an unemployed actor, and the cast often make jokes about this. Other characters include Dave, a young entrepreneur, and Anil, who owns a café. A recurring feature of the series involves Basil and the cast breaking the fourth wall.