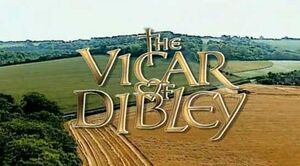 The Vicar of Dibley is a British sitcom created by Richard Curtis and written for its lead actress, Dawn French, by Curtis and Paul Mayhew-Archer, with contributions from Kit Hesketh-Harvey. It aired from 1994 to 2007 on BBC One.
The Vicar of Dibley is set in a fictional small Oxfordshire village called Dibley, which is assigned a female vicar following the 1992 changes in the Church of England that permitted the ordination of women.
The main character was an invention of Richard Curtis, but he and Dawn French extensively consulted the Rev. Joy Carroll, one of the first female priests,and garnered many character traits and much information.