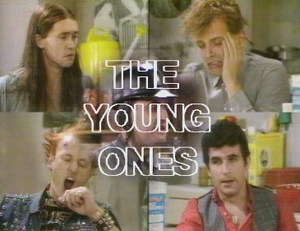 The Young Ones is a British sitcom, first broadcast in 1982, which ran for two series on BBC Two.
Its anarchic, offbeat humour helped bring alternative comedy to television in the 1980s and made household names of its writers and performers. Soon afterwards, it was shown on MTV, one of the first non-music television shows on the fledgling channel.
Stories were set in a squalid house where the students lived during their time at Scumbag College. It can be classified as a comedy of manners.
When it was first broadcast, the show gained attention for violent slapstick. Though new to mainstream audiences, Mayall and Edmondson had been using it in 20th Century Coyote for some time. The show also featured surreal elements, such as puppets playing talking animals or objects. Confusion was added with lengthy cutaways to scenarios not involved in the main plot.