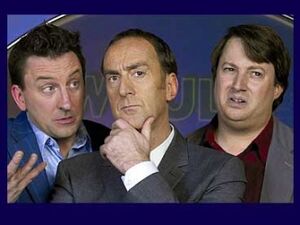 Would I Lie To You? is a comedy panel game made by Zeppotron for the BBC. It was first broadcast on 16 June 2007.
The show was presented by Angus Deayton from 2007 to 2008 on BBC Two, and by Rob Brydon from 2009 onwards on BBC One. The team captains are comedians David Mitchell and Lee Mack.For each show, two celebrity guests join each of the team captains.
The two teams then compete head-to-head with each player revealing facts and personal tales for the consideration of the opposing team. Some of the statements are true; some are not, and it's the panellists' task to separate the facts from the fabrications.